Before and after weight loss – The story of Carl
Where is the rest of you?
People were stopping Carl and asking him this question after he lost a significant portion of his weight with W8MD(pronounced weight MD).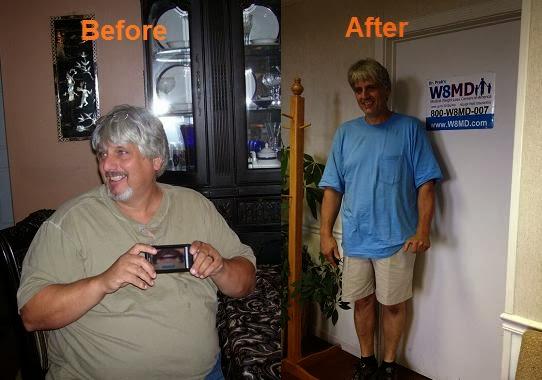 Carl is a busy and physically active contractor with his own business as a self employed Plumber. At 346 lbs, and 6'1″ with a BMI of 45, it is not particularly easy on him as a plumber! All his doctor has to say was "lose weight". Having tried everything else, he decided to try the W8MD program in February, 2013.
Here is a Video Testimonial about his amazing journey of weight loss success with W8MD Medical Weight Loss Centers Program. His own personal physician could not believe the last blood work. His HgA1c ( 3month blood sugar control test) went from 7 to 5, his cholesterol improved significantly and he is not snoring any more.
Having lost about 75 lbs. in 3 months, he averaged about 25 lbs of weight loss per month. Although this may not be typical, this is as fast or faster than what is seen in most Bariatric surgery patients but without any surgery. Watch this amazing and inspiring weight loss success story of Carl titled "where is the rest of you!"
The best news is – his insurance covered his weight loss visits with W8MD. Congratulations Carl! Keep up the good work and keep working at it! Together, we can do it.
Learn more about W8MD or read other weight loss success stories or testimonials.
Related Post